Although in the courtyard outside you'll find a majestic 160-year-old blood beech, inside the design is a lot more neutral.
The walls of the new coworking space impress, with its four floors and 240 stylish and redesigned workstations.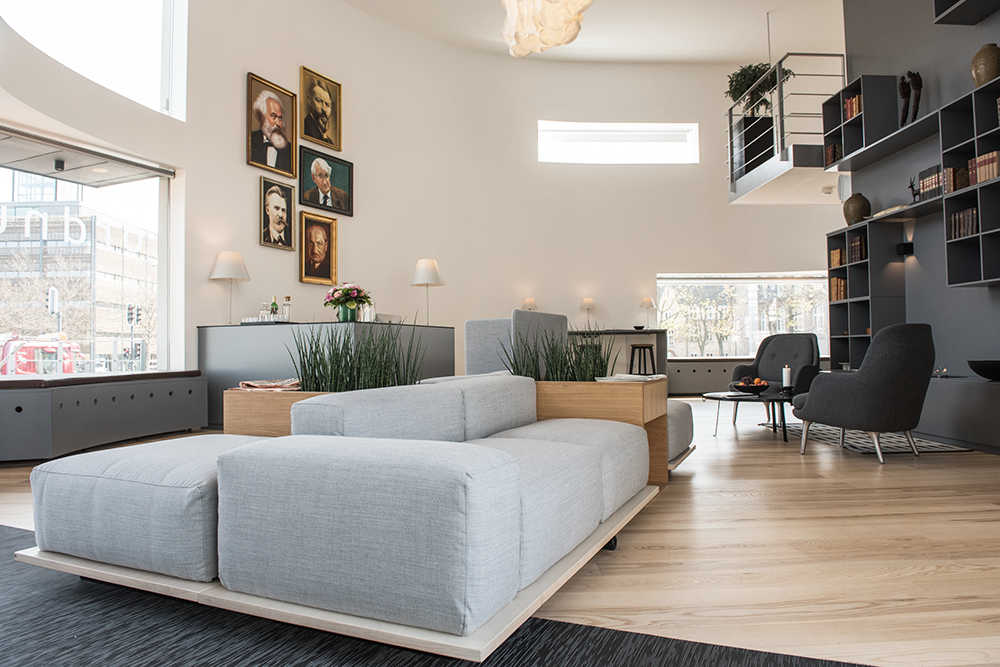 But what makes Ordnung outstanding is the special sort of order (Ordnung) that pervades: it's certainly no accident.
This is the expanding Danish serviced office chain's latest coworking space, and after a risky birth in the middle of the financial crisis in 2010, it now holds eight carefully selected locations in the capital
of Denmark.
"Our new coworking space in Hellerup is the first of our locations with a manned reception and service, and is completed in a tight concept of stylish extravagance," says Ordnung's founder and director
Anders Andersen.
"We have upgraded with a plus, so it's Ordnung+ instead of just Ordnung,"
Everything in order
The company name, which gives it its unique charm, originates from an old family joke, from one of the Andersen's
skiing holidays in Austria.
"We once lived in a ski hotel where absolutely everything was run to perfection and had an impressive 'Ordnung'
and attention to the very finest detail. It was beautiful and systematic, but taken to the most ridiculous extreme
which we had a lot of fun about.
"Back in 2010, where I had to come up with a name for our first serviced office, the word 'ordnung' (order) appeared once again and it stayed there," he explains.
'Alles in ordnung' is exactly the words that frames and lift the new eye-catching coworking space located in the most expensive postcode in Denmark - 2900.
The company has enjoyed much success in the new location, with over a third of the beautiful luxury office space already rented during the first four months of the year. The US IT company
Salesforce chose to rent an entire floor and oil giant Shell is also about
to move into Ordnung+.
Seductive high-end
"The market is growing fast in recent years. Looking back, the economic crisis ended by giving the serviced office concept a significant boost and breakthrough," says Anders Andersen.
"Companies had to scale back considerably and chose to move their fewer employees into a serviced office. And many of the remaining people also settled in serviced offices -
self-employed consultants, agents, freelancers, etc."
In Hellerup, Ordnung+ provides eleven trendy architect-designed meeting rooms, exquisite Kvium art on the walls, varying office furniture in seductive high-end Eames, Herman Miller designs - and
the latest AV technology in the world.
As icing on the cake, the fashionable serviced office has furnished an already highly-demanded penthouse lounge with unobstructed views of the sea, the area's breathtaking villa gardens and the
city's lights and skyline. From the lounge in the office, which has quickly became the house's most popular spot, the panoramic views do little to dampen the optimism of Ordnung.