Danish company PhoneAlone has launched a phone booth and a larger meeting pod including a smart UV tech solution that disinfects the inside surfaces for viruses and bacteria in less than three minutes.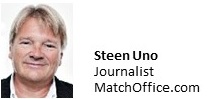 The coronavirus pandemic and global reopenings have promoted the office pod as a hugely popular must-have hit for open-plan offices worldwide.
Recently the Danish company PhoneAlone entered international markets with this most current version of the office pod for all reopening office companies:
A Danish-designed office pod with a smart UV solution that automatically disinfects all inside surfaces for viruses and bacteria and contributes to ensuring a healthy working environment free of covid, influenza and other infections.
"The idea showed up when we arranged a phone booth at our acquaintance, Efsen UV & EB Technology. Together we started to develop a pod that could eliminate the spread of viruses and bacteria," says Joakim Siefert, partner and sales manager at PhoneAlone.

Corona breakthrough
Already a year before the outbreak of the corona crisis, Joakim Siefert and his father Kim Siefert had begun producing and selling the small family company's first office pods to Danish organizations and companies.
"My father has been manufacturing furniture, including office furniture, all his life and drafted a pod prototype for some colleagues that he found needed a peaceful spot in their noisy office surroundings," Joakim Siefert summarizes.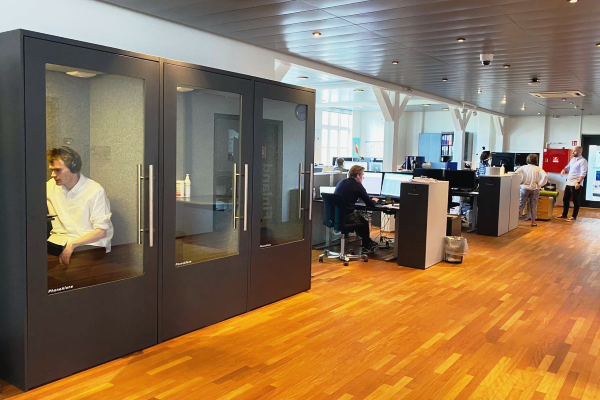 The corona pandemic and the current global reopenings have made phone booths
and office pods the most popular 'must-have' hit for open-plan offices worldwide.
Photos: PhoneAlone

"With the outbreak of the corona, business orders and our customers vanished. But last autumn, the market suddenly took off - again companies wanted to enrich their office environments with our pods.
There is no doubt that our pod success is supported by our firm strategy delivering our pods to the absolute lowest prices in Europe within just seven working days," Joakim Siefert points out.

CE approved
The CE-certified UV system of the PhoneAlone pod starts automatically when a user leaves the box and closes the door. The light sensor turns off after five seconds and the UV rays begin to disinfect all inside surfaces.
Within three minutes, the office pod is effectively cleaned of infectious covid-19 and influenza viruses, etc., so that the next user can take the seat safely and without worrying.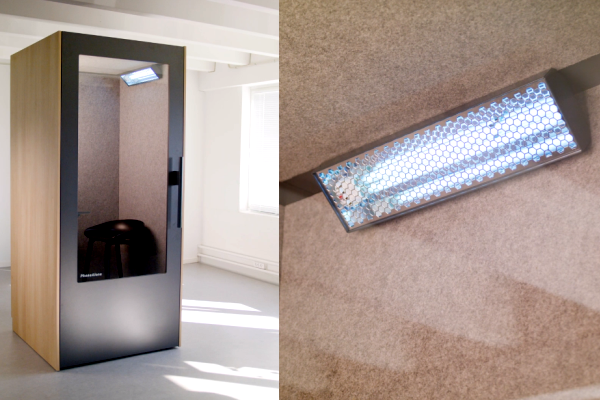 In three minutes, the UV disinfection system cleans all inside surfaces of viruses and
bacteria, so that the next office user can take the seat safely and without worrying.


"Our office pod reduces noise by 30 decibels and provides the very best sound insulation of the price range. It ensures office users the right framework for concentration, increased focus and productivity.
In addition to the price level, we emphasize providing our customers with a quality product in stylish Danish design and organic materials, which can be adapted and tailored to the needs of any office," Joakim Siefert underlines.

New meeting pod
Later this month, PhoneAlone is going to launch a larger box model - a meeting pod containing four participants designed with a rotatable tabletop that can easily change the box into two spacious work stations.
"Current studies and experts agree that future office environment will align with pods of various kinds and designs," Joakim Siefert says.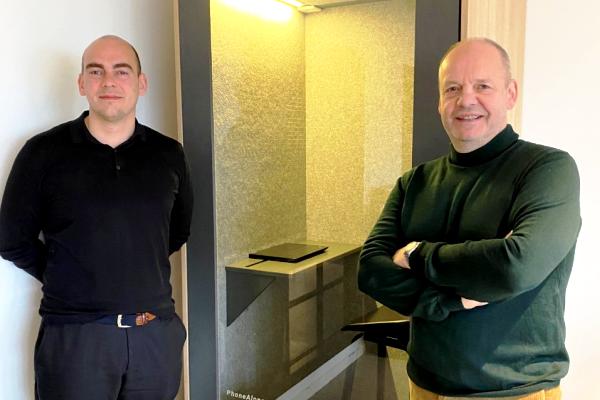 "The pod UV system starts automatically when an office user leaves the box. Within
three minutes, the UV rays will disinfect all the inside surfaces," PhoneAlone partner
Joakim Siefert (left) and CEO Kim Siefert emphasize.


"We think that the office pod will develop like the height-adjustable desk. 10-15 years ago, those sit-stand desks were rather expensive for many companies, but today the prices have lowered and they present in most global offices.
In this post-corona phase, the office pod is similarly manifesting itself as a very important design and an indispensable piece of furniture in our modern office environments," Joakim Siefert states.
The PhoneAlone pod with the dimensions, h220-w100-d96 cm, costs €2.995 including curbside delivery, but can also be leased from €60 monthly. The innovative UV solution can be purchased for €1.200. ●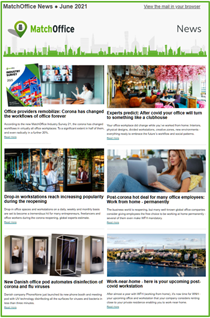 Read more:
Phonealone.dk/en: PhoneAlone - your personal space
Phonealone.dk/en: Automatic disinfection with UV technology
Cushmanwakefield.com: Office pods popping up
Collaborative-office.com: Why office cubicles are the best social distancing tool