After five years of construction, Google has inaugurated their new sustainable Silicon Valley HQ, Bay View Campus designed by the celebrated Danish architect Bjarke Ingels in cooperation with London super designer Thomas Heatherwick.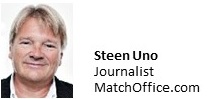 In 2015, Google selected Bjarke Ingels Group and Thomas Heatherwick to design their new corporate headquarters in Mountain View, Silicon Valley.
The tech giant's 102,000 sqm of super sustainable office buildings and facilities now have been inaugurated and opened for their 4,000 future employees.
Designed and built on cornerstones of innovation, nature and community, Bay View Campus appears as an enormous, unique open space to meet Google's ambition to operate globally on carbon-free energy 24/7 by 2030.
The canopy roof, making the Google office house look like a modern soccer stadium, consists of 50,000 solar panels, which generate almost seven megawatts of energy - up to 40% of the new building's energy needs.

The very idea of an office
"We have devised our new office complex to reflect our Google working styles for the next 20, 30, 40 years. Our Future of Office Spaces has allowed us to rethink the very idea of an office.
In the buildings, we prioritize the user experience over the exterior form and created, what we call, human-centred and sustainable design," VP of Google Real Estate David Radcliffe explains.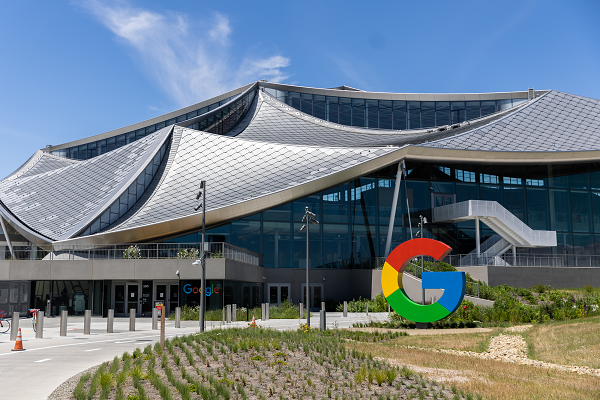 The Bay View Campus is rethinking the office's innermost basic ideas so that it will
be able to reflect on changing ways of working in the next 20-30-40 years.
David Radcliffe points out that the design of Google´s new Bay View Campus aims to evolve as eras´ ways of working will change over time.
"An office space and environment must create harmony between employees working inside and those who are working outside the office building. The flexibility of the Campus focus and collaboration space is just one way of several to meet these future changes."

Carbon-free energy
Supported by electricity from wind farms nearby, Google´s new HQ office buildings supply carbon-free energy approx. 90% of the time.
For heating and cooling, the office complex uses the United States' largest geothermal energy system by harnessing water from the local lake.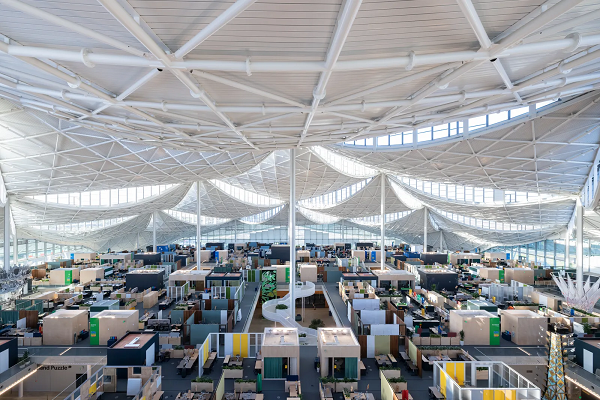 The upper deck of the Bay View Campus´ two storeys houses a variety of individual
desks and team workspaces of different sizes and designs.


The upper deck of the Bay View Campus´ two storeys houses a variety of individual desks and team workspaces, all of which have natural daylight from facade windows and the glass surfaces between the roof canopies.
The work floor connects via indoor courtyards to the lower level houses kitchenettes, cafes and large open areas with plenty of space for large and small corporate meetings.

London campus
The Google Bay View complex in Mountain View consists of two office buildings, a convention and event centre, and 240 units for staff accommodation to a limited extent.
Also, Bjarke Ingels Group and Heatherwick Studio, at the moment, are collaborating on Google's upcoming London campus at King's Cross, planned to open in 2024 with i.a. nature park and running track on the rooftop terrace. ●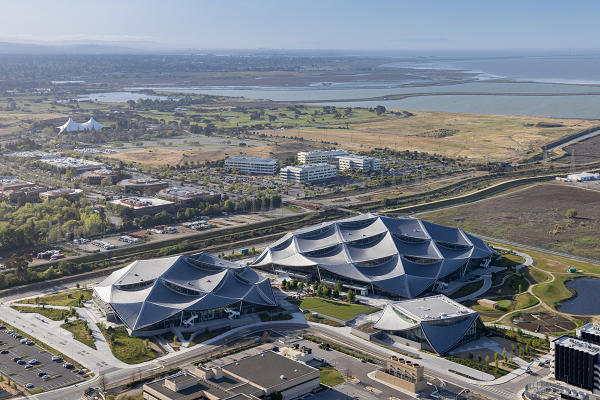 50.000 solar panels on the roof surfaces generate up to 40% of Bay View Campus´
energy needs supporting Google´s global goal of operating carbon-free by 2030.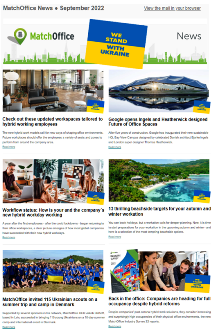 Read more:
Blog.google: Bay View is open - the first campus built by Google
Worklife.news: 5 things to know about how Google's new Bay View campus
Dezeen.com: BIG & Heatherwick complete Google campus with dragonscale roofs
Architecturaldigest.com: Google's new Ingels & Heatherwick HQ shows office future