The covid lockdowns are over - office workers in great numbers have returned to their physical workplaces. Now, the challenging implementation of your company's new hybrid work models, which both employees and managers are passionate about, must start to work.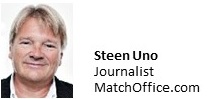 The corona lockdowns of recent years have once and for all transformed the global labour markets that office work today is no longer a matter of the locality but about the activity.
Current studies indicate that almost 75% of global office companies in the aftermath of the pandemic are willing to give their employees opportunities to work hybrid.
Half of these companies declare their readiness to maintain their new flexible working models in the future, a third say they will evaluate the value of their embarked hybrid work continuously.
In different ways, companies adopt the hybrid work models and tailor them to their work environments with a focus on the well-being and productivity of their employees.

Hybrid cornerstones
The consulting firm The Instant Group, which services companies with solutions for workspaces and environments, operates with these four inputs for how the company best determines and handles where and when its employees can work in the future:
● Redefine the workplace with a focus on employee health and well-being
● Tailor office space and environment to the individual needs and wishes of employees
● Prioritize the right digital solutions that connect the hybrid workplace
● Think sustainability and sustainable agendas in the workplace strategy
Hybrid work can have different meanings depending on the workplace and context, but overall, the new form of work offers the opportunity to choose.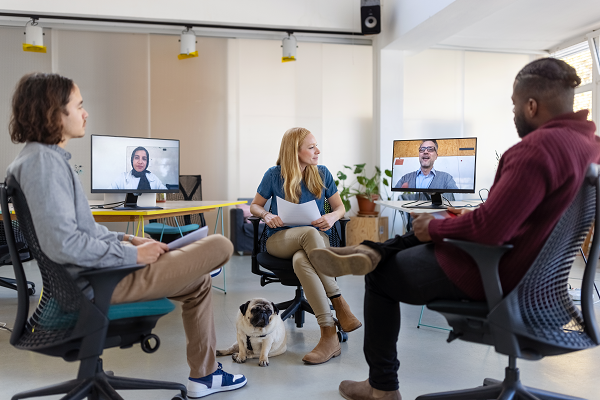 Employee health and well-being, a tailor-made work environment, efficient digital
solutions and sustainable approaches are key cornerstones when the company is
launching its hybrid strategies. Photos: iStock

"Human experience, digital involvement and assurances of a progressive sustainable approach are cornerstones that, in changing combination, are needed to create the framework for the company's hybrid approach and future.
It ensures a sustainable and inclusive attitude among committed employees when the companies build up their hybrid strategies, physical and digital workspaces," the marketing manager at The Instant Group John Williams says.

Transparent agreements
Planning and transparent joint agreements are, however, first and foremost the key keywords when the company's hybrid working model is to work and achieve goals with the employees.
Employees need to know how many days a week or weeks a month their team has to show up in person at the office and when it is sufficient to communicate online, and above all: When they are free to work on their own.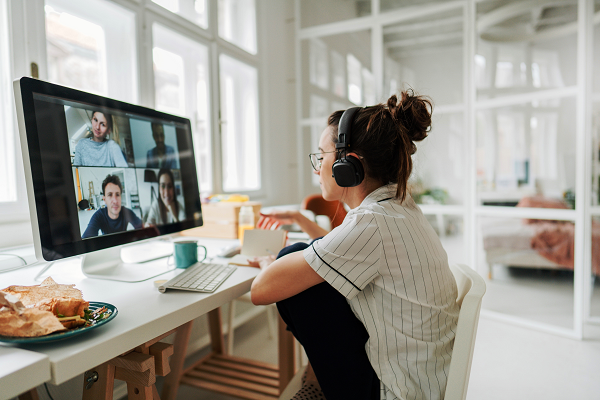 Hybrid-working office workers need to know how many days a week their team has
to show up in person at the office and when they are free to work on their own.


Employees need to know exactly when they can manage their working hours at home because one of the advantages of teleworking is precisely being able to break up the working day and multitask.
The employer should clearly define at what agreed times during the day everyone should be present at their hybrid workstation if they are to confer, and how quickly they should respond to the day's ongoing mail contacts.

Learning process
The Danish property management company DEAS with more than 900 employees and 2,400 properties is one of many companies that are currently redesigning their physical frameworks to be able to embrace the new hybrid workflows very best.
"As a flexible workplace, we support the balance between family and work-life for our employees. We are in a learning process where we continuously adjust to the experiences we gain," HR manager Iben Rindom explains.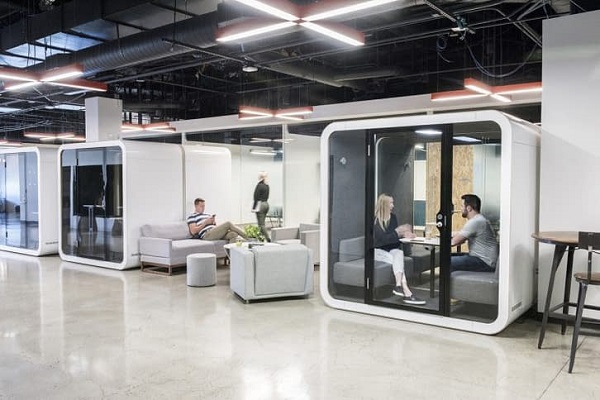 Office pods or 'telephone boxes' are popular and extremely suitable for meeting the
needs of hybrid office workers for smaller spaces for physical and digital meetings.
Photo: Framery

DEAS is in the process of converting all office workstations with the same IT equipment, so the employees can sit down everywhere. Several new 'telephone boxes' shall meet employees' demands for smaller spaces for digital meetings.
""Our new workday life with more hybrid work will raise new demands for introducing and supporting new employees. Our managers must prepare to involve those working from home and those working in the company spaces as well.
Specifically, we will further train our managers in distance management and collaborate with external consultants on mental well-being, because homework can present challenges with the work/life balance," Iben Rindom points out. ●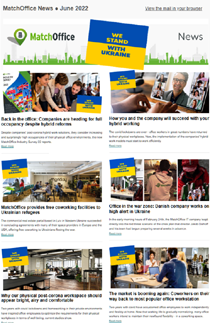 Read more:
Forbes.com: Hybrid Working? Time To Rethink The Office
Theinstantgroup.com: Uniting these four elements of hybrid working
Ejinsight.com: Hybrid working - how to navigate the new world of work
Forbes.com: How to make hybrid and remote working work for your company