Jakob Dalhoff, CEO and owner of Lokalebasen.dk and MatchOffice.com, is fighting to keep courage up and morale high for himself, his family and foremostly the 40 Ukrainian employees at the headquarters of the Danish it-company in Lviv.
"I feel endlessly sad, deeply depressed and stressed inside, but right now I am incredibly impressed with the fiery spirit of these lovely Ukrainians, and their iron will to fight for their freedom".
These days I am working round the clock to keep contact channels open with a large variety of people in Denmark, who are ready to provide support for the Ukrainians and to condemn Russia in every possible way."
48-year-old Jakob Dalhoff, CEO and owner of the Danish rental portal Lokalebasen.dk as well as their international sister portal MatchOffice, fights a tough battle on the defensive to keep up the courage and morale as well as the spark within himself, in his family, and foremostly the 40 Ukrainian employees at his it-company in Lviv.
Following two years of corona shutdown MatchOffice was once again ready to reopen its creative office environment on the outskirts of Lviv in western Ukraine, but instead emergency planning and logistical preparedness abruptly became the agenda.


Emergency plan launched
Jakob Dalhoff put into effect the emergency plan, which he along with employees had developed in February as a safety precaution, immediately on Thursday morning, a few hours after Russian troops had crossed the Ukrainian borders.
An emergency plan, which among other things already has expedited several of the companies essential it-employees to safety and working exile in Poland, while others are ready to follow in case that the situation should worsen and escalate, and seriously damage and involve Lviv.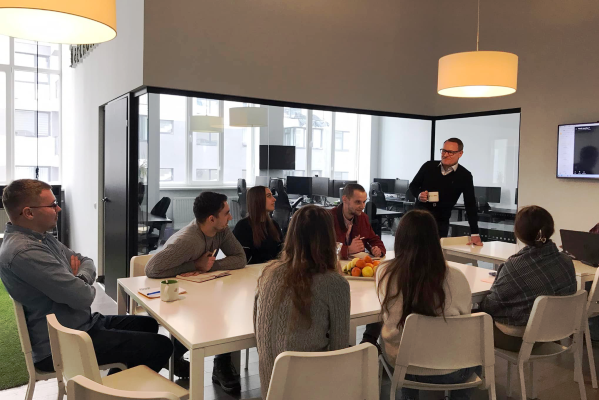 Despite the MatchOffice space in Lviv still being corona shutdown in January,
Jakob Dalhoff gathered some of his employees to prepare the emergency
crisis plan, which abruptly had to be effectuated on Thursday.
"Furthermore, the 30 children and youths from the two orphanages participating in our MatchOffice charity project, in which we amongst other things teach them English, have fortunately been helped across the border and further on to Italy," says Jakob Dalhoff.
Yesterday he gave his anxious employees and their families the possibility for an acute transfer to Denmark if they ever felt the need for it.
A host of my friends and acquaintances in Denmark have announced that they are ready to open their doors for my employees and their close ones. I have also readied a car with a full tank of fuel, which can be used for acute transport across the Polish border," says Jakob Dalhoff.

The irony of fate
It is the irony of fate, that Jakob Dalhoff, who was born and raised in Hørsholm north of Copenhagen, abruptly found himself in the midst of an intimidating war situation, where the Russians are the enemy.
The founder and CEO of MatchOffice and Lokalebasen.dk is the son of the former journalist Peter Dalhoff-Nielsen, who in the 60's and 70's was a known and recognized DR-correspondent in the Soviet Union and Eastern Europe, from where he diligently reported for DR's former foreign magazine Horisont.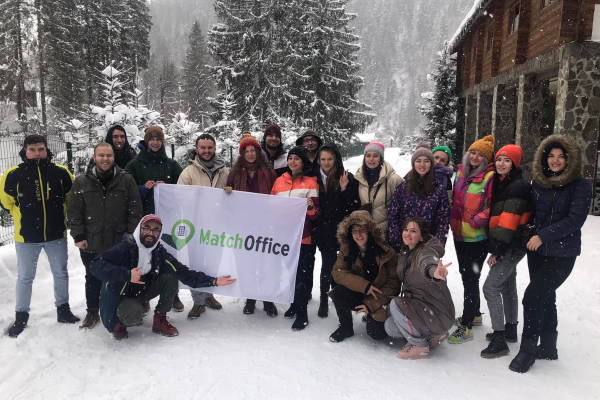 Picture taken while the mood still was at its highest in January of this year,
where Jakob Dalhoff gathered all his MatchOffice employees for snow-
and teambuilding after almost two years of frustrating corona shutdown
of the Lviv office space.
"My grandmother came from Saint Petersburg, but had to flee to Denmark in 1917. Next to his job at Denmark's Radio my father wrote a series of books regarding Eastern Europe and eastern European social conditions.
There a few whom have spent as many summer holidays as I on traveling with my parents in the former Soviet Union and areas, which today are sovereign nations - The Baltic Countries, Belarus and also Ukraine," says Jakob Dalhoff.

Touched by the news
So far, he and the hundreds of other Danish business people in the west Ukrainian university city of Lviv have- except for a missile attack on a military base outside of town- been able to settle for a few daily stays in shelters and basements as a result of blaring air sirens.
"On Sunday night I was sitting in the shelter beneath our condominium (see photograph at the top - editor) and saw Mette Frederiksen appear on my iPad, where she announced, that Denmark had decided to send weapons to Ukraine.
I was so happy and moved, that I spontaneously began crying and almost couldn't bring the news to the others in the basement," says Jakob Dalhoff.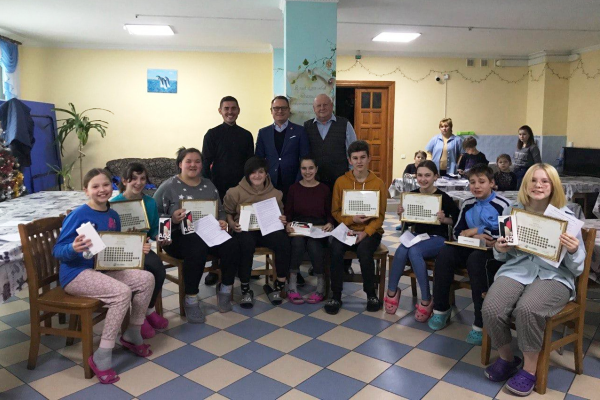 Before Christmas, Jakob Dalhoff distributed diplomas and smartphone to
the participants of the MatchOffice charity project - 30 oprhaned children
and youths, which currently have been safely transported to Italy.
The Danish business manager in Ukraine has in mind to stay in Lviv for the time being, in order to provide the best possible care for his Ukrainian girlfriend, family and employees.
"My fiancé has her mother and grandmother here, which makes us stay in the city. If they ever need help, we will be the people closest to them since the rest of the family resides outside the country.
At the same time, I feel an obligation to keep morale high amongst my MatchOffice employees. I have guaranteed them, that they will still have their jobs tomorrow, in a week and in year, as well as their salary - This guarantee is much appreciated in a country, where a social safety net doesn't exist" says Jakob Dalhoff.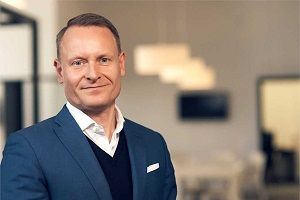 Jakob Dalhoff, CEO hos MatchOffice og Lokalebasen.dk, can be contacted at jd@lokalebasen.dk as well as telephone (+45) 2616 4486