Our new client survey reveals that open spaces were a hit for clients in 2016, and that despite noise concerns, open-plan offices are here to stay.
The serviced office industry is well known for its innovation in the field of pricing plans, cutting-edge service provision and its fostering of an environment of coworking and entrepreneurial cross-fertilisation.
But the industry is increasingly demonstrating its ability to innovate in the office spaces themselves. Our 2016 Client Survey shows that the tastes of serviced office users are drifting towards the use of large, open plan office spaces rather than offices segregated by firm or department.
New statistics published by MatchOffice show that the proportion of clients with serviced office contracts that include open plan office space has risen by 56 percent, with 16.6 percent of clients in 2016 versus 10.6 percent the previous year. They also reveal that the proportion of clients with traditional, closed office contracts has also risen, but by just 2.5 percent. Accordingly, the proportion of clients with alternative forms of contract such as virtual office plans and those that just hire meeting rooms fell over the year 2015-2016.
Dipping a toe in open water
Jakob Dalhoff, MatchOffice CEO, says "It has been a growing trend, that companies now prefer to sit in open spaces rather than in closed offices.
Many companies that would have rejected that style of working a few years ago are now starting to try it out. I have even seen a small law firm move into one, which would have been unthinkable to them just a few years ago.
"The serviced office industry and its flexible pricing plans by nature lends itself to allowing firms to sample meeting rooms and the services that providers offer, meaning that firms that are looking to upsize can have confidence that they can expand their plan in the future.
Shhh…I'm trying to network!
The innovation of open-plan offices was once met with the concern that coworking would just produce loud offices in which it was difficult to get any work done. But the data shows that not only are clients increasingly opting for open over closed offices, they cite networking and shared facilities as reasons for choosing serviced offices – and lots of those benefits are enhanced when the office is open.
But a survey conducted by the Auckland University of Technology in 2016 found that some workers in Australia say that open-plan offices are a hindrance to their work, and that 'hot-desking' leads to a lack of attachment to one space and workers not being able to "find and personalise" their desk.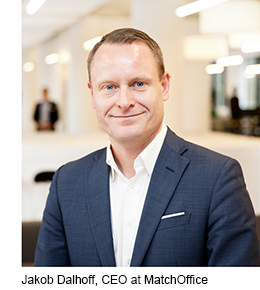 "We have also seen a significant increase in workers complaining that there is too much noise in their office, and one explanation could be the fact that more work now takes place in open spaces", says Jakob.
"That is the disadvantage of working in an open space so it's not that surprising. But to address this problem, more and more serviced office providers have established phone booths, which is one great way of cancelling unnecessary noise. In many cases, tenants use headphones when working anyway."
Phone booths to siphon off disrupting phone calls or 'silent areas' for keeping noise to a minimum allow a networking and coworking hubbub without stopping workers for getting on. "The thoughts and ideas that come from coworking are increasingly being recognised by firms of all different sizes, and we expect this trend of integration to continue over the next few years. The open-plan revolution is here to stay", says Jakob.
Read full version of MatchOffice Client Survey 2016: