Two years of covid forced homework can erode the inspiration, motivation and commitment of most office workers. Take a break from all the restrictions with a workation combining the necessary and useful with the comfortable.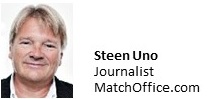 A workation is, as the trendy American buzzword hints, a handy combination of work on the go and vacation between work hours.
Workation is remote work and vacation, business and leisure, work on your laptop from a resort - by the beach, up in the ski hut, in the holiday home far away in the distant skies.
This new form of travel has developed with tremendous speed and spread as the covid lockdowns sent more and more office workers home to their living rooms.
Before the pandemic, primarily younger digitalized generations travelled to try out working life. But today, after two years in the home office, older age groups too, including families with children, go for a workation using it as a much-needed diversion.

Great potential
The tourism industry now also eyes promising opportunities in marketing tempting workation offers. The online travel portal Expedia, for example, is now launching suitable destinations under the section Work from here.
TUI launched specially designed workation rooms with desk, keyboard, mouse, and a wide 27" PC screen can be rented additionally.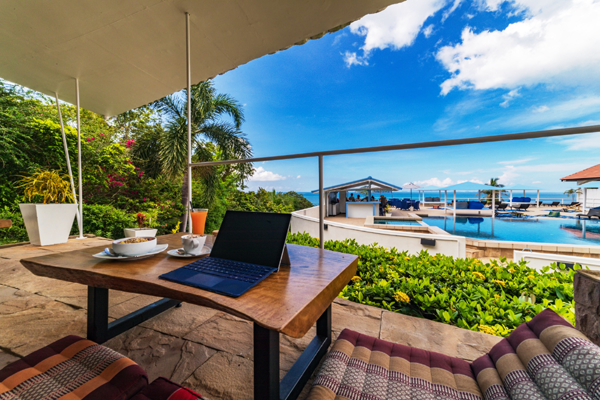 Today, the global tourism industry seriously eyes the opportunities in marketing the
most tempting workation deals all over the world.
Photo: Baan Jai Dee Resort, Koh Phangan


"We consider workation as an exciting travel product with great potential - a niche offer with an even modest demand, but which in the long run could reach up to 10% of our sales," CEO of TUI Germany, Stefan Baumert estimates.
According to the booking portal Airbnb, 20% of their online users nowadays book accommodation for 28 days or longer indicating, that returning might no longer be as urgent as before.

Workation hit list
The holiday rental portal Hoildu has ranked 150 cities as obvious workation targets rated on monthly costs for a one-bedroom apartment, consumption, hours of sunshine, wifi speed and the number of ´things to do´.
Based on those convenience factors, the Holidu Workation Index ranks Bangkok as the best place to spend a working holiday, followed by New Delhi, Lisbon, Barcelona, Buenos Aires, Budapest, Mumbai, Istanbul, Bucharest and Phuket.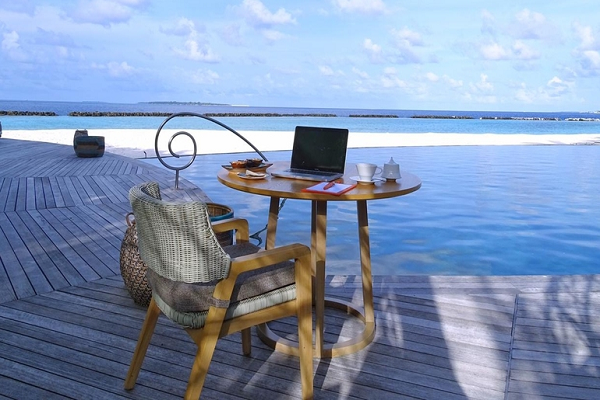 According to Airbnb, as many as 20% of the booking portal's customers today book
stays of 28 days or more, which might indicate workations.
Photo: The Nautilus Maldives

But one thing is exciting big cities that the younger workation generations might prefer, another is picturesque tropical islands and chalk-white exotic beaches that older working people and family owners, first of all, might dream of.
MatchOffice News has selected these sun-drenched, most attractive workstation destinations for free inspiration. Please remember to check current covid rules and restrictions for each travel place: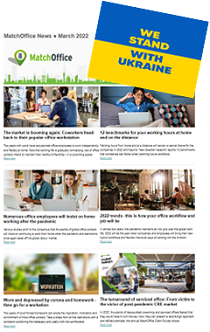 Read more:
Holidu.co.uk: The best cities for workation
Getrodeo.io: What is a workation - everything you need to know
Cnbc.com: Working getaway? Here are the world's top 10 spots for workations
Digitalnomadsoul.com: Workation guide - how to work and travel at the same time