50 years May 1 - Jakob Dalhoff, a Dane living in the Ukrainian city of Lviv, struggles alongside his day-to-day management of the rental portals Lokalebasen.dk and MatchOffice to expand his aid work in war-torn Ukraine.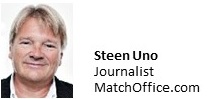 It wasn't exactly how the entrepreneur Jakob Dalhoff had imagined his new everyday life when, in 2018, he replaced his Danish residence and business address with a future business based in Lviv, Ukraine.
In Copenhagen, the young business broker, son of a previously well-known Danish TV legend, had early established his personal brokerage firm and since established new digital paths in the real estate industry with the online portals MatchOffice and Lokalebasen.dk.
In the absence of skilled, available IT developers, Jakob Dalhoff began to gravitate towards the Ukrainian university town early on. And when he also met love in Maria, the decision to move his companies permanently to Lviv was imminent.
But on February 24, 2022, the idyll was broken by a feared, though not unexpectedly dark event: Russia's army moved across the border and began its fierce bombardments and violent assaults on the Ukrainian population.

Extensive aid work
"I remember the first time of the Russians' attacks on us as dramatic, stressful, but like all Ukrainians, I quickly settled into new routines in our changed everyday life," Jakob Dalhoff says.
Immediately on the first day of the war, the Danish company manager himself went on the offensive: He implemented the emergency plan he and his employees had prepared. This plan had already transferred the company's IT key people into work exile in Poland.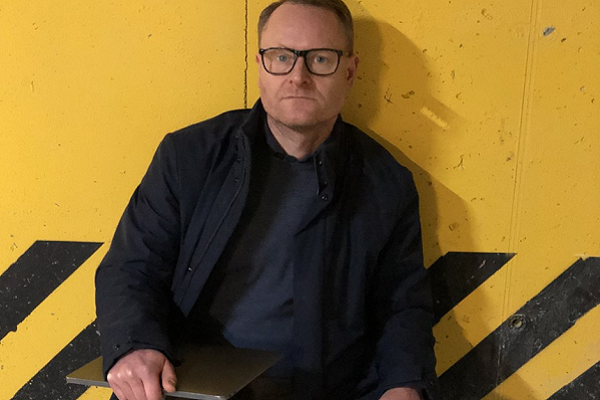 One of the first times in February 2022, a visibly nervous Jakob Dalhoff sought his
shelter in the basement under the apartment complex in Lviv.


Jakob Dalhoff promptly offered his 41 Ukrainian MatchOffice employees and their families the option of emergency transfer to Denmark if needed.
At the same time, he began to build up what today has developed to be quite extensive, widely branched and ever-growing Ukrainian aid and support work. He estimates that he currently spends up to 70-80% of his time supporting and developing new support projects.

Frontline medical trailers
The Danish director's tireless Ukrainian aid work also became visible in Denmark when, last summer, via his network, he gave 115 Ukrainian children and young people a week and a half of respite at the big international scout camp outside Copenhagen.
In August, on the half-year anniversary of the invasion, Dalhoff took the initiative for a Ukrainian demo in Copenhagen, where the Russian embassy, for a few moments, was involuntarily illuminated in blue and yellow floodlights.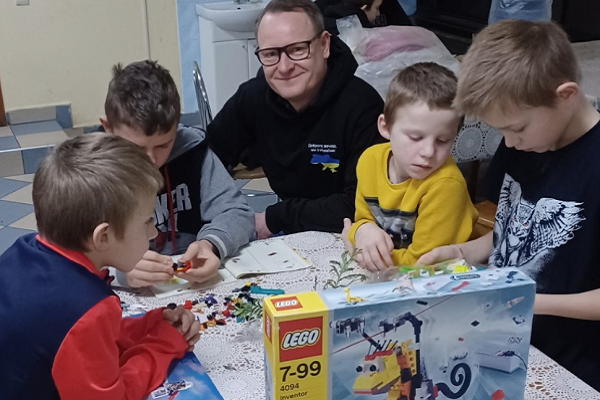 In recent months, Jakob Dalhoff has facilitated a series of donations ranging from
LEGO gift boxes for grateful children to hospital generators and mobile medical
trailers for Ukraine's military frontlines.


During the winter, in cooperation with Rotary clubs and others, the Danish initiator stood behind a series of donations - 10 mobile medical trailers for Ukraine's military frontlines, three generators for hospitals in Kharkiv and Mykolaiiv, 25,000 pairs of thermopads for Ukrainian soldiers and much more.
Locally, in Lviv and the surrounding area, Jakob Dalhoff has delighted children and young people with LEGO gift boxes and other toys, helped refugee families with washing machines, microwave ovens and other necessities, supported Lviv's cycling club, etc..
At Tech StartUp School Lviv, the enterprising Dane also is co-founder of the Ukrainian-Danish Center for Scientific and Technological Cooperation, where he teaches and mentors young Ukrainian entrepreneurs.

Sense of timing
"The terrible months of the war have brought me much closer to the irrepressibly fighting Ukrainian people and country than I would have otherwise come," Jakob Dalhoff emphasizes.
The 50-year-old's sure business acumen and ability to be foresight, act quickly, schedule and launch new initiatives have thus benefited not only his Ukrainian employees but also, in a twist of fate, since February 2022, hundreds of other war-affected Ukrainians.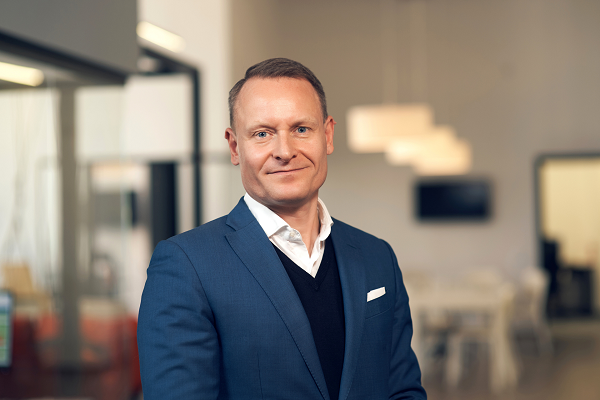 "All these terrible months of the war have brought me very close to the irrepressibly
fighting Ukrainian people and country, which still impresses me tremendously and
deeply," director Jakob Dalhoff, turning 50 on May 1, emphasizes.

In his private sphere, in addition to pampering his Ukrainian family, Jakob Dalhoff is strongly dedicated to his new and promising galloping horse Slava Ukraini, currently the best 3-year-old in Scandinavia, which did very well in a Dubai race this winter.
According to his tradition, Jakob Dalhoff pays tribute to the international Labor Day, May 1 - by working all day ...
However, the boss is usually responsive to setting aside time for a piece of birthday cake with his employees and all the other congratulators of the round anniversary. ●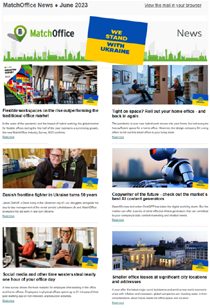 Read more:
Linkedin.com/jakobdalhoff: French news channel showing our mobile hospitals
Matchoffice.com: Invited 115 Ukrainian scouts on a summer trip and camp in Denmark
Matchoffice.com: Office in the war zone: Danish company works on high alert in Ukraine
Matchoffice.com: I am incredibly impressed with the fiery fighting spirit of the Ukrainians