Now the impacts of the hybrid work revolution are hitting: Every second major global company expects to significantly downscale its office square feet and physical workspace within the next three years.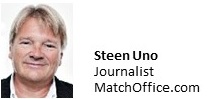 No matter how you turn and twist the math: When fewer employees use the office, at the same time, there will be excess space, and therefore, in the long run, be needs for less work space and saved office rent.
Over this summer, several studies in various corners of the world have shown that large companies in large numbers, over the upcoming 2-3 years, are planning significant downscales of their physical space requirements.
According to a survey of 350 property managers, half of the largest responding companies with over 50,000 employees expect to downsize their global portfolios by 10-20% very soon.
However, several emphasize that it isn´t necessarily a question of saving space or money but of prioritizing new modern office and work environments that can better match their new hybrid employee workflows.

Significant cuts
"Office occupancy is still very low after the pandemic. Several office companies operate with occupancy below 50%, and more than half plan to cut and reduce their rentals significantly..
Companies are working hard to adapt to a landscape of extensive post-covid changes and developments. Finding the balance is crucial to define their future needs for workspace," as commercial property managers formulate similarly.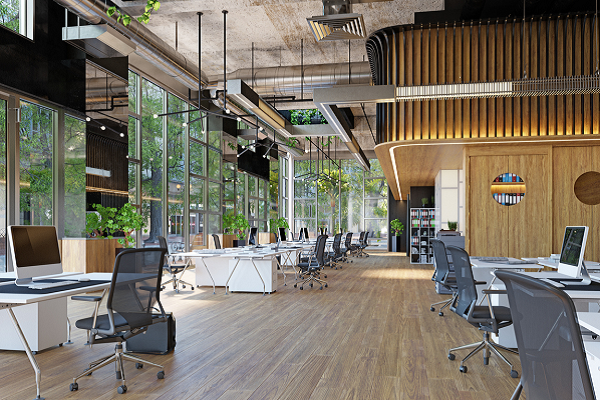 Approx. a year and a half after the latest global covid lockdowns, virtually all grand
US cities are struggling with record-high numbers of screaming empty office areas.
Photos: iStock

Approx. a year and a half after the latest global coronavirus lockdowns, almost all grand US cities are struggling with scaring record-high numbers of screaming empty office square spaces and areas.
Right now, it seems worst in San Francisco with an office vacancy rate of more than 26% - before the pandemic, it was down to 4%. New Jersey has 25,8% vacancy, Houston 25.6%, Dallas 25.0%, and Los Angeles 24.1%.
New York and Manhattan present the highest number of vacant office square feet, almost 76 million, corresponding to a vacancy rate of 16.1%.

Decreasing
In London, the British banking group HSBC plans to move its global headquarters from the most expensive business district, Canary Wharf, to a smaller office complex after the expiry of its current lease.
The bank used to house nearly 8,000 employees in Canary Wharf, but the new post-pandemic hybrid workflows have reduced the number considerably. Globally, HSBC is in the process of reducing its total office space by 40%.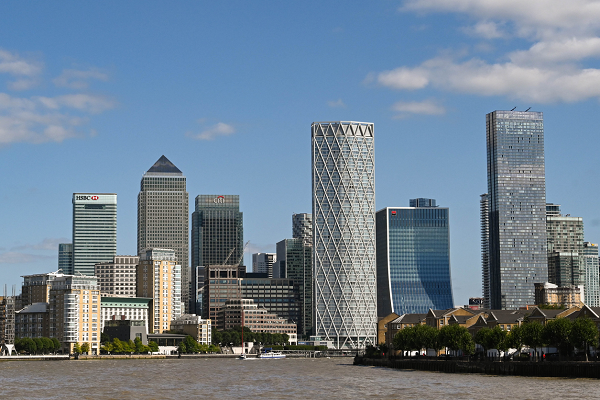 In London, the HSBC banking group plans to move and downsize its headquarters
in the exclusive Canary Wharf district caused by the reduced number of remote or
hybrid working employees in their physical office areas.

In Germany, office occupancy has fallen on average from 61% before covid to 40%. In several large German companies, occupancy rates in the first quarter of 2023 decreased as low as 25.
In Scandinavia, office occupancy is currently measured at around 27%, in France at 41%, and in the southern European countries at 47%, caused by the companies' now fully implemented hybrid workflows.

Alarming report
Businesses' hybrid workflows are increasing office vacancies and pushing down rental prices to levels that, according to a recent McKinsey Global Institute report, office properties in global cities risk a value deterioration of $800 billion before 2030.
"The falling demands for office space are forcing providers to lower their rental rates. It has already hit several of the biggest US cities with tremendous force and effect," the McKinsey report outlines.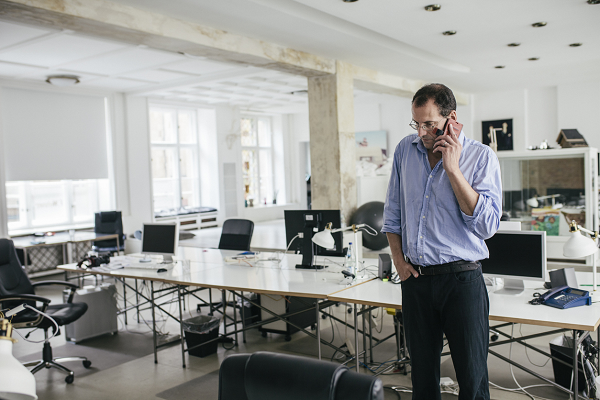 Empty offices, terminated leases, increasing vacancies causing rental rates to dive,
office properties to decrease in value, and investor interest to cool, which may turn
out to become very expensive, a recent McKinsey report outlines.

"In the past year, office rental rates in San Francisco and New York decreased by 28% and 22% compared to 2019. Under moderate circumstances, demands for office space may settle for a 13% decline before 2020 - rising interest rates could mean deeper falls.
McKinsey suggests that urban and real estate developers should adapt to declining office demands by adopting a hybrid approach, developing office buildings for flexible purposes, and constructing office properties that adapt smoothly for various purposes. ●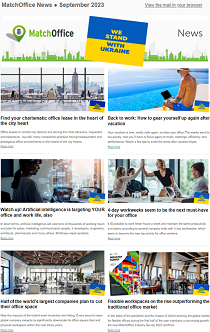 Read more:
Bnnbloomberg.ca: Half of large firms plan to cut office space
Refire-online.com: German office occupancy tumbles to 40%
Visualcapitalist.com: Visualizing 1 billion square feet of empty office space
Cnn.com: Working from home could wipe $800 billion from office values globally