Two years with covid have accustomed office employees to work independently and flexibly at home. Now that working life is gradually normalizing, a lot of office workers intend to maintain their newfound flexibility - in a coworking space.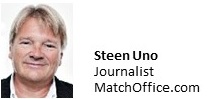 The covid pandemic has forever changed the way office people view their workplace. Studies show that up to 80% of employees do not want to return to their former office after experiencing the flexibility of working from home.
For instance, a US survey revealed that 39% of the responding office employees would rather resign than return to the rigid office environment where they worked before the pandemic.
Companies are now recognizing the benefits by permitting free choice of workplaces and schedules to their office workers - among other options in a coworking space.
During the first global covid lockdowns, the coworking industry suffered severe losses. In the current reopening phase, the market rises significantly and seems to become the biggest post-corona winner of the CRE market.

Strong growth
As employees are reentering their offices, the coworking spaces are now experiencing higher increases than expected. In early 2022, the number of coworking environments worldwide expects to reach 25,000, estimated to exceed 40,000 workspaces by 2024.
The coworking market is heading for significant growth in the coming years. Globally, the coworking industry calculates to have a value of $8 billion, expected to reach $13 billion by 2025 due to new company workflows.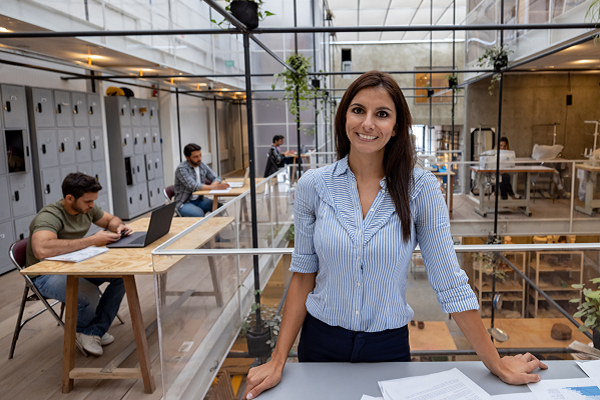 The post-corona reopening gets entrepreneurs, freelancers, small businesses, and
large as well back to the coworking environments around the world.
Photos: iStock


To a large extent, the rising growth rate of the industry is the result of increased demands from corporate customers. Also, global coworking providers continue to expand with new locations.
CRE experts estimate that up to five million people will work from coworking spaces by 2024. That would be an increase of 158% compared to 2020.

Embraces needs
"The popularity of the coworking concept has been increasing over the last decade. What started as an alternative for freelancers and entrepreneurs has now been highly accepted by companies of all sizes.
In this late phase of the pandemic, coworking spaces are again starting to boom because they - under strict security measures - are ideal for embracing modern office needs of companies," MatchOffice CEO Jakob Dalhoff says.
MatchOffice News has selected these from a variety of global attractive coworking environments currently reachable on the independent portal MatchOffice.com: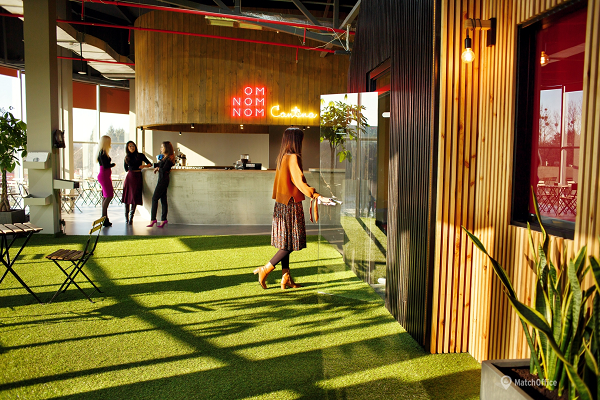 A coworking environment designed as a miniature Dutch village with the Dutch spirit of diversity and innovation. Focus on working at your own desk in an open space with all the benefits of managed facilities and office services or in our open space in the morning, lounge zone in the afternoon.
● Price/desk/month: From €85-140
● Area: 100-250 desks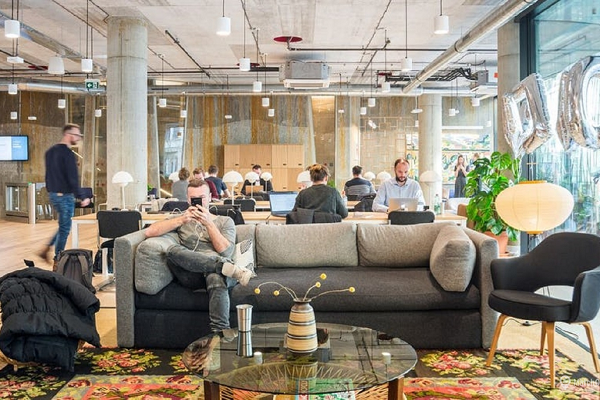 Bridging the city's old and new towns, the coworking space offers the best of both worlds—highly functional design and a down-to-earth community. The metro station, located a 6 minutes walk, enhances urban mobility in Prague. Parking lots located 350 m away can ease up your urban experience.
● Price/desk/month: From €218
● Area: 10-150 sqm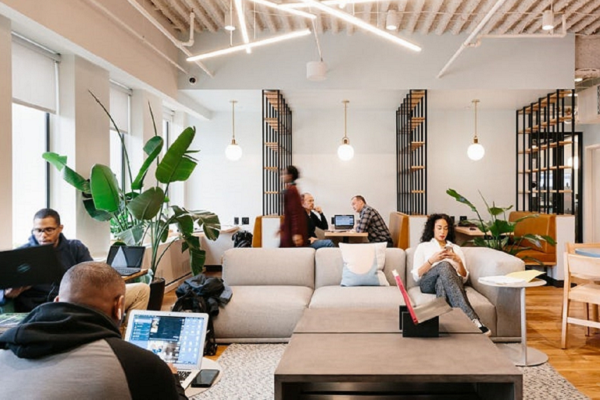 State-of-the-art collaborative workspace carefully designed to boost creativity and productivity. Flexible office solutions available for teams of all sizes: Private office space or coworking desk. Located in the trendy Sentrum district of Oslo just a stone's throw away from the city centre in a thriving area.
● Price/desk/month: From €550
● Area: 10-150 sqm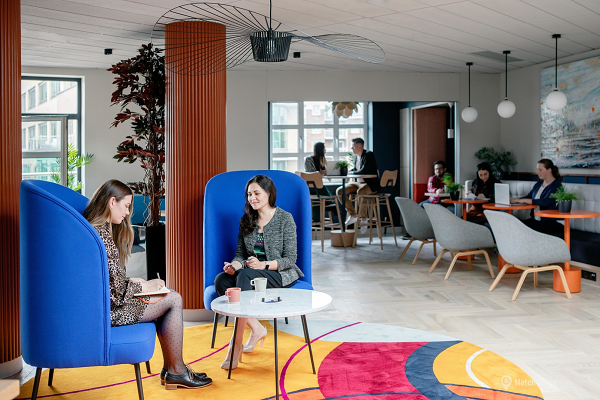 Newly renovated and extensively refurbished throughout offering modern serviced office suites and meeting rooms, available under flexible terms. Located in Dublin's most sought-after business and tech district overlooking the canal and just a short stroll from Dublin's ´Silicon Docks´.
● Price/desk/month: Coworking desk €325, office from €2.900
● Area: 10-600 sqm, 30-300 persons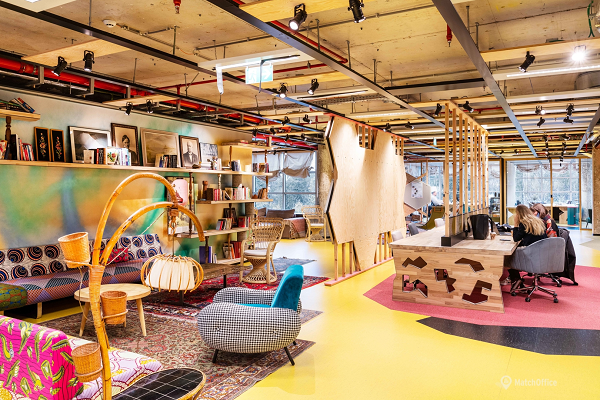 SQ Delta is breathtakingly beautiful designed by Lionel Jadot, an artist who exceeds expectations, located in a vibrant neighbourhood with a good mix of entrepreneurs and professional students. Every hot desk is well-positioned so you can cowork alongside like-minded entrepreneurs.
● Price/desk/month: Hotdesk from €295
● Area: 9-5.000 sqm, 1-200 persons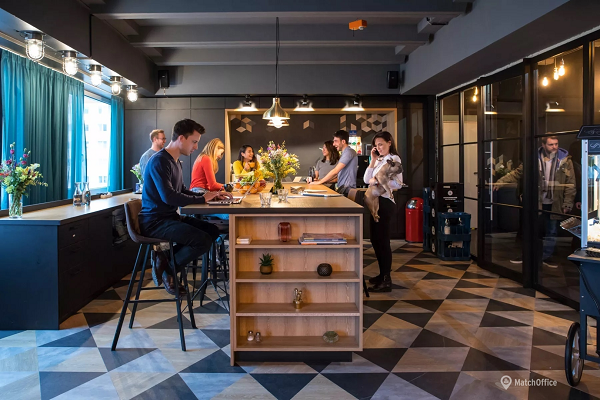 Join our community where freelancers and companies with complementing backgrounds meet and connect. Located in the east of Berlin in the Mitte district, but it borders directly on Prenzlauer Berg, offering numerous restaurants and countless shopping options.
● Price/desk/month: Flex desk from €190, Fix desk from €350
● Area: 10-350 sqm, 1-14 persons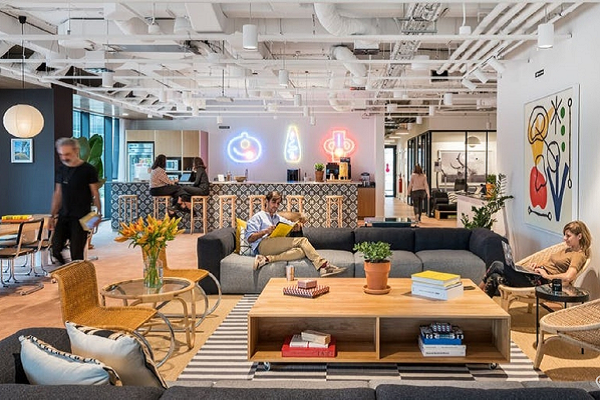 Located in a modern crystal building with lounges with plenty of light, modern meeting rooms and elegant workspaces. Easy access by public transport close to Poblenou and Llacuna metro stations. The area is surrounded by lively tapas bars, markets and a promising technological scene.
● Price/desk/month: Hotdesk from €305
● Area: 10-150 sqm, 1-6 persons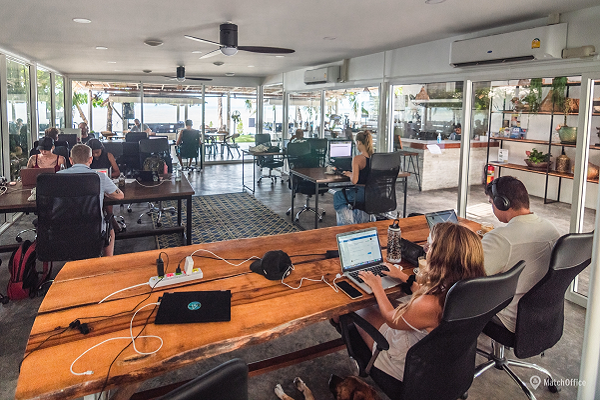 Your ultimate destination for working, relaxing, and living life, located on the magical island of Koh Phangan. This is an oceanfront coworking space with a full-service restaurant and bar offering a lot of amenities made for coworking and a memorable beach vacation
● Price/desk/month: €80
● Area: 22 desks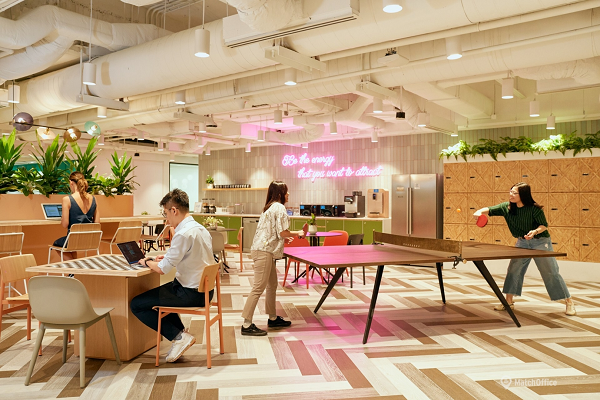 Situated within the arts and heritage district, where historical landmarks such as Singapore Art Museum and National Museum are just a stone's throw away. With spacious hotdesking areas, private studios and meeting rooms available upon request, they will certainly be able to fulfil your coworking needs.
● Price/desk/month: JustDesk Unlimited €260
● Area: 10-40 sqm, 1-2 persons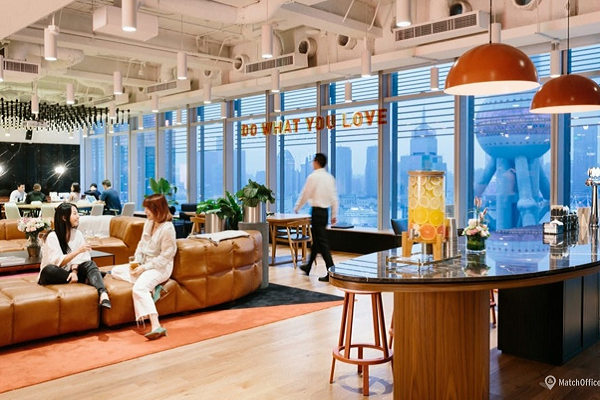 Conveniently located at the heart of Lujiazui, and can easily be accessed by Metro Line 2. Its close proximity to other international enterprises and industry tycoons grants immeasurable resources and opportunities. The refreshing design and user-friendly layout promise to stimulate and inspire.
● Price/desk/month: Hotdesk from €490
● Area: 10-40 sqm, 1-2 persons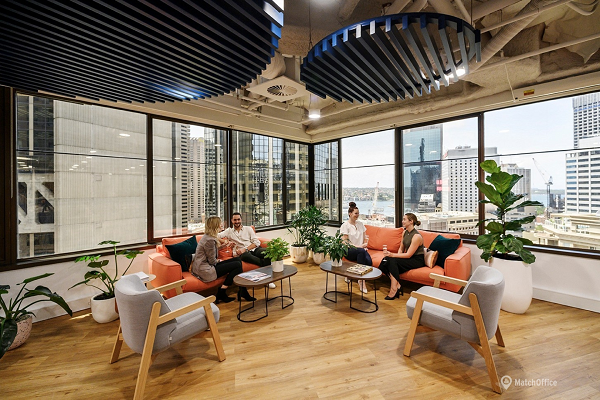 Located with direct undercover access to Wynyard Station and a host of Sydney's vibrant retail and dining offerings. Boasting a spacious open-plan design overlooking the iconic Sydney Harbour, you can enjoy all the perks of an inner-city address without the overheads of a traditional office.
● Price/desk/month: JustDesk Basic from €62
● Area: 10-40 sqm, 1-2 persons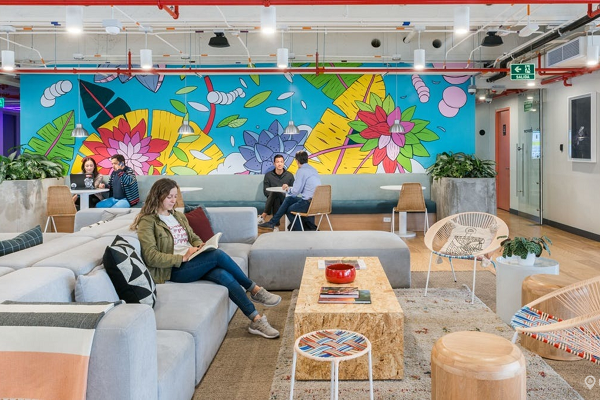 Located in an entrepreneurial area close to the famous Juan Valdez Coffee Shop as well as the popular Crepes & Waffles, you'll find bike storage, a wellness room, an event space, and an outdoor terrace. The metro station is located a 4-minute walk from the WeWork site.
● Price/desk/month: Hotdesk from €128
● 10-40 sqm, 1-2 persons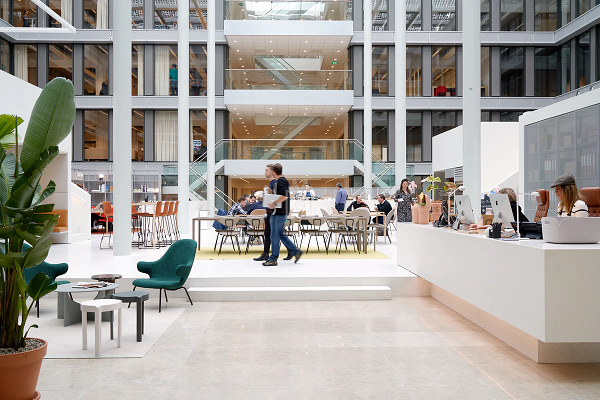 Located in the heart of Ipanema, opposite Our Lady of Peace Square, only 7 minutes away from the subway and with a beautiful view of Christ the Redeemer. Our spaces are designed to promote productivity - our workspaces are decorated with custom murals.
● Price/desk/month: Coworking from €180, Day Use €18
● Area: 50-500 sqm, 2-20 persons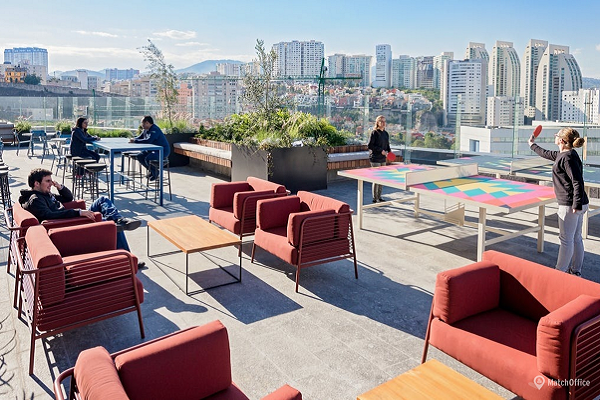 High-rise building with spectacular views of Mexico City, both from the rest rooms and the outdoor terrace. Designed for different work styles, teams can move between different spaces: private offices, common areas and outdoor space. Easy to reach via Vialidad de la Barranca, but away from heavy traffic.
● Price/desk/month: From €180
● Area: 8.000 sqm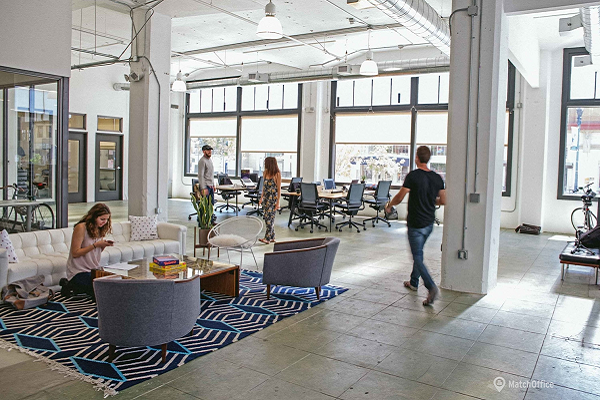 Prominently situated in the heart of East Village directly across from the Stadium in downtown San Diego's hottest neighbourhood with a thriving mix of businesses and hundreds of restaurants, cafees and bars in the Gaslamp District - the city's point of pride.
● Price/desk/month: Flex Desk from €260
● Area: 10-50 sqm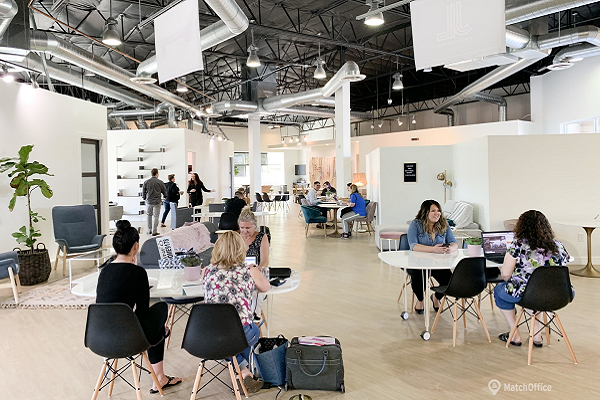 Home to a cute, comfortable workspace with plenty of space for workers and available snacks, the atmosphere offers an ideal mix between your own home, a coffee shop, and open-concept office space. About 80% of Bottega Exchange's membership is female.
● Price/desk/month: Hotdesk from €220
● Area: 7.000 sqm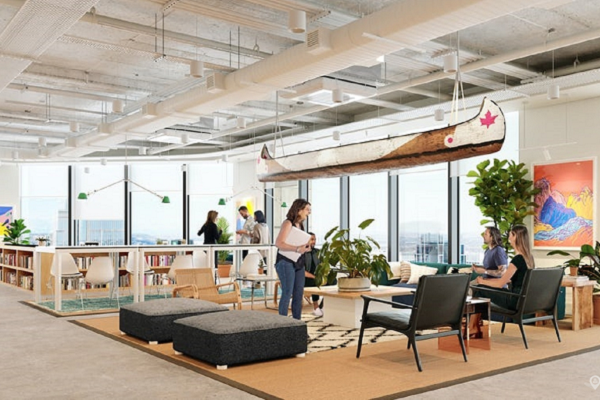 Located near Calgary Tower in Downtown Commercial with lively restaurants, quaint boutiques, cosy bars, and sleek shopping malls that will keep your team happy and engaged in Downtown Calgary - our vibrant shared office simply places you in the heart of it all.
● Price/desk/month: Hotdesk from €290
● Area: 10-150 sqm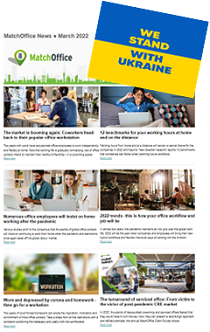 Read more:
Matchoffice.com: From victim to the victor of the post-pandemic CRE market
Technical.ly: Coworking spaces have been resilient during the pandemic
Forbes.com: Office, what office? How our concept of work is changing
Thisweekincoworking.com: Recent Weekly Summaries