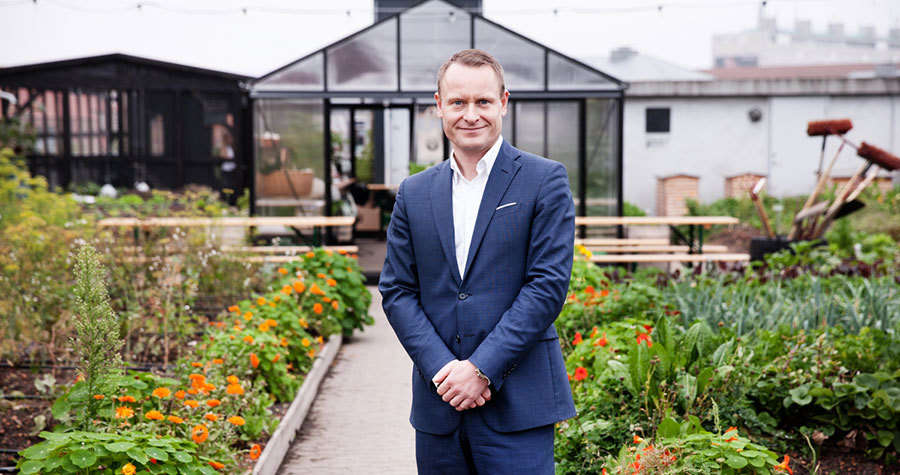 Curriculum
Age: Born in 1973
Residence: Hellerup
Education:
Licensed real estate agent at Niels Brocks Handelsskole, 2000
Cand. Merc. In Finance and Accounting at Copenhagen Business School, 2001
HD in Online Promotion Strategy at Copenhagen Business School, 2015
Experience:
2008-: CEO at Lokalebasen/MatchOffice
2004-: MatchOffice, partner
2003-2013: DN Erhverv, CEO
2003: CB Richard Ellis, real estate agent
Other:
Advisory Board at 2move
Has published the e-book: "Registrering i det offentlige ejerregister", which can be purchased at Saxo.com


Favorite books

'Livsfarlig ledelse' by Christian Ørsted
'The Experience Economy' by Joe Pine
'Udefra' by Jakob Bøtter
'The Power of Self-Discipline' by Brian Tracy
'Go-Givers Sell More' by John Mann
'Good to Great' by James C Collins
'48-Hour Start-up: From idea to launch in 1 weekend' by Fraser Doherty
'The 4-Hour Workweek' by Timothy Ferriss
Jakob Dalhoff, CEO
Jakob Dalhoff has been working with real estate his whole adult life. He began his career as a businessman at an early age when he at 14 years old used his childhood savings to invest in securities.
When he at a later stage studied at Copenhagen Business School and wrote his thesis on investing in rental properties, he concurrently qualified himself to be a licensed real estate agent.
After working as a real estate agent for a couple of years he changed path to pursue his dream of entrepreneurship which resulted in the founding of DN Erhverv where he worked as a commercial real estate agent for approximately ten years.
His entrepreneurial spirit has resulted in the founding of several businesses. In 2004 he participated in the foundation of MatchOffice, an intermediary for business centers with locations in more than 100 countries, where he today acts as a partner. Since then he has also been a part of founding several other companies like Lokalebasen in 2008, Book a star ApS in 2014, Høgsbo Invest ApS as well as Ivsstiftelse.dk, also in 2014.
Jakob now resides in Lviv, Ukraine, where he has established a new MatchOffice department. The office in Ukraine is in continuous growth which has led to Jakob's decision to work out of Ukraine. Jakob still visits the Danish office several times a month.
Learn more about Jakob Dalhoff on LinkedIn.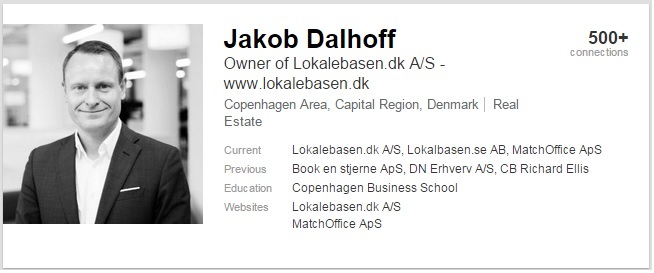 Read related news articles etc.
Jyllandsposten: LinkedIn bliver erhvervsmæglernes fortrukne værktøj
Berlingske Ejendomme: Tomgangen i kontorhoteller falder

Berlingske Business: Erhvervsmægler: "Jeg udlever mine kreative drømme"
Børsen: Internationale ambitioner med Lokalebasen.dk
Jyllandsposten. : Dansk erhvervsportal vil indtage Europa
Estate Media: Lokalebasen klar til at indtage europæisk marked
Berlingske Business: Mæglere i digital dyst om kunder
Estate Media: Direktør Jakob Dalhoff fylder 40
Estate Media: Jakob Dalhoff sælger DN Erhverv
Video: Lokalebasen brug af sociale medier, interview med Jakob Dalhoff